The Tri Valley Cricket Club (TVCC) has been successful in restarting the club after sitting out 2010, thanks to some new recruits moving into the tri-valley area and availability of a great indoor practice facility.
The season play starts up next saturday (April 30, 2011) and runs till end of August. The club (within Tri Valley Cricket Foundation) will be playing T30 format under NCCA, which is the oldest organized cricket association in northern california.
This year the club was not able to secure the Dublin Emerald Glen park ground from the City.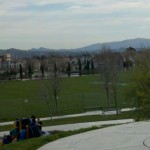 So they will be playing out of Tracy (which is a "batsman's paradise" – located at Krohn Road, Tracy, CA 95377).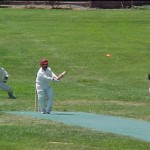 However, they are hoping to get back to playing in Dublin next year. To qualify to play in the grounds, the club needs to attain the non-profit status 501(c)(3). However if they cannot attain the status on their own, the Club plans to look towards some Dublin based organization to sponsor them. The status requires that the organization's membership is open to public, serves Dublin community, and membership must be ideally 51% Dublin residents (though there are ways around that). There are additional rules and insurance requirements.
The club is always open to new recruits. According to Paul Singh of TVCC, the club conducts formal practices on Wednesdays from 6:30 – 8:00 PM at Hit'N Sports in Pleasanton. Interested folks can always join them then, and can also contact the club at: [email protected]