We want to kick-off 2020 with some great savings programs just for you! In order to show our appreciation, we have put together some great offers for you to enjoy!
$24.99 for our Synthetic Blend Oil Change
$42.99 for our Full Synthetic 0w20 Oil Change
New to the neighborhood?  WELCOME!
$32.99 for our Full Synthetic 0w20 Oil Change (new customers)
The 0w20 Oil is the proper oil for many of the new Toyota, Honda, Mazda, Acura, Lexus, Infiniti and many other vehicles.
All oil changes come with FREE multi point inspection, oil, oil filter, tire pressure check and top off fluids.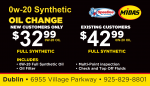 OFFER GOOD THROUGH FEB 15, 2020.


We also have a huge Price Match sale on PIRELLI tires. Pirelli, Continental and Michelin are all rated as the top brand tires in the world by Consumer Reports and we have GREAT deals on Pirelli. Come and get a price and see how you can save hundreds over the big box retailers and warehouse club prices. Lastly, if you are new to the neighborhood, welcome.  If you want to find a local shop for your service needs, please keep Midas in mind.  If you have a quote from your dealer and want a second opinion, please let us know.  We are here to help.