Tulip is opening its second location in Dublin. Tulip will be offering Summer Camps & After School Programs.
For more information check: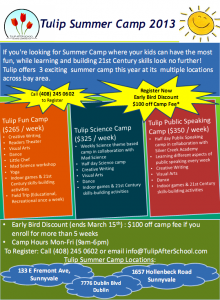 Few points to note:
1 Summer camps in Dublin area available until August 16th
2 Extended Care Available for Summer Camps $ 50/per week 8:30 am- 9:00 am & 6:00 pm – 6:30 pm
3 Half Day Camp Options Available only in Dublin Area from 9am – 1:30 pm
Science Half Day Camp – $ 250/week
Fun Half Day Camp – $ 180/week
For questions feel free to contact Sneha @ 408-930-1862 or email to [email protected].