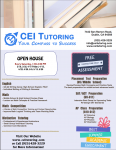 Location: 7442 San Ramon Rd, Dublin, CA 94568
Summer is always the best time to prepare or boost students' academic scores. We offer various subjects of tutoring classes for students from G5-G12. If you are looking for following programs, contact us today and schedule a tour!
* Preview Class for G5-G8 Math, Algebra I, Geometry, Algebra II, Pre-Calculus, Calculus.
* Writing Camp for G5-G8 students, High School English Preparation class & PSAT Preparation.
* Math Placement Test: Assistant your child get in the advancement math.
* SAT/ACT Preparation: Boost your college admission test scores.
* Math Competition Class: Enhance your interest and fun by learning math!
Come to join our open house on every Saturday afternoon, from 1:30-4:30 PM. Call us (925) 428-3229 or email us [email protected]
Mention Tri-valley Desi get Free Assessment.