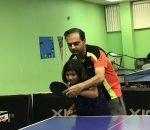 Sign-up | 510-366-5234 | inf…@f…com
Location: 6693 Owens Drive, Pleasanton, CA, 94588
Winter Camp (enter through rear door): Dec 26-28, 2018-3-6 PM / Jan 2-4, 2019-3-6 PM  ($135/week, $55/day)
Winter Classes: Jan 12-13, 2019 to March 30-31, 2019 (Sat 7:15-8:15, Sun 6-7, 7-8 PM, $264/12 weeks for 1 hr/week)
The tri-valley table-tennis winter camp and classes are from the program and coaches of Fremont Table Tennis Academy (FTTA), a USA Table Tennis National Center of Excellence which believes in giving each kid personal attention. The classes are open to ages 4 and up, both adults and kids, and have beginners with no prior experience to tournament-winning students. FTTA students often win first-place locally and average one medal won per participating student in the premier US tournaments, the US Open and US Nationals. Classes are led by Shashin Shodhan who has won 15 national titles and represented the US in the North American Olympic Trials where he was one of the top performers. His is now a USA Table Tennis National Certified Coach and International Table Tennis Federation Level 3 Certified Coach.