While most desis would like their children to know basic Hindi (or other regional mother tongues for that matter), many non-desis would find it valuable if their children could speak another language. And yes Mandarin, Spanish, but why not even Hindi, especially if you are in the Bay Area?
Problem is, where to start, and how to maintain it? Enter Cheeni for Tots' "Let's Enjoy Hindi in Just 13-min a Day" Program.
The program evolved from the children's Hindi-English storytime that the founder Rakhi Sharma conducted at the Alameda County Library. And now some of her focus is moving to the Tri Valley Area since some of the initial patrons moved to this area, and she got suggestions from friends that it would be good to share it with TriValley residents as well.
More on the program:
It is a unique program with rich-multimedia content (audios, videos, Talking Board (TM), worksheets, charts, evaluation, and more), the 13-min a Day System, and weekly live, on-line, interactive sessions.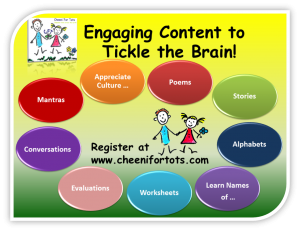 Research shows that a simple way to enhance intelligence, creativity, self-esteem, and academic ability in kids is to give them the gift of knowing more than one language. And, this can be valuable and can be done, even if the parents do not know the language. A very easy way to start this process is by having your kids have fun with the new language, which is the goal of the 13-Min A Day program.
The best part is the program is designed for those who have no initial exposure to, or familiarity with, Hindi and contains instructions in English, so that non-native speakers of the language (both parents and kids!) can start learning the language together, with no problems what-so-ever (thanks to our clever system and innovative tools).
To find out all the exciting details about the philosophy behind this program, the content, the secret of the 13-min A Day system,  what parents are saying, as well as registration and sign-up details, you can watch an interesting video at http://www.cheenifortots.com
Based on interest from Tri Valley Area, Cheeni for Tots could do a special webinar dedicated just to Tri-Valley parents where Rakhi could educate them more about the program and its value.