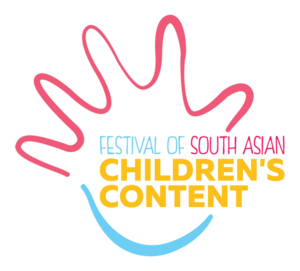 Join us this winter for a unique festival – A first of its Kind Festival for Children's Content of South Asian origin.
"We believe representative media is important for everyone and especially for children as it directly helps build their self-esteem and sense of identity. We all want to see ourselves reflected in books and other forms of content."
Indian Moms Connect proudly presents – FSACC '16 (Festival of South Asian Children's Content) on November 5th at ICC Milpitas.
The Festival of South Asian Children's Content will be a not-for-profit event held in the Bay Area (ICC Milpitas), California on Saturday, November 5th, 2016.
The idea is to bring together like-minded creators in the South Asian Children's Content space to collaborate, network and reach out to the larger community to spread awareness about quality content that is available. At the same time, the event will be open to the public to purchase books and more, participate in storytelling and craft sessions and interact with the authors and publishers.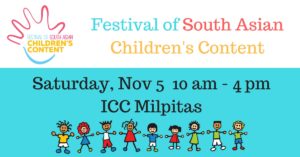 10am – 4pm – Public Event
6 pm onward – Interactive Q&A Sessions with authors Mitali Perkins and Nandini Bajpai
Followed by a networking dinner.
We want to extend an invitation to you all to this free event to experience books, apps and other forms of content that focuses on South Asia.
We also hope you will support us by helping us spread the word about the event.
Some links for more details –
Our Facebook group – https://www.facebook.com/groups/631118623719386/
and our event – https://www.facebook.com/events/1766432996970323
Site: http://www.imcmarketplace.co/FSACC
Short Link – http://bit.ly/fsacc16
We look forward to your support, presence and participation.
— Team IMC