We, at TokaBox, are delighted to share about our upcoming event – Festival of South Asian Children's Content this February.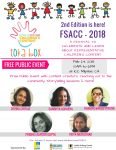 (Dont' miss to download the story telling schedule below)
FSACC came into being to support and provide a platform for content creators in the south Asian children's space to come together.
It is a FREE PUBLIC EVENT that provides an ideal way for the content creators to meet their audience, interact with them and raise awareness about the quality content available in this space.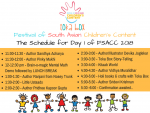 Location: India Community Center, Milpitas
FB Event Link: https://www.facebook.com/events/377190789412474/
More details at – www.tokabox.com/FSACC
Join us to meet Authors Vidya Muralidhar, Pinky Mukhi, Sandhya Acharya, Ranjani, Pridhee Gupta, Kavita Bafna, Sridevi Krishnan, book vendors Usborne books and Kitaab world and our sponsors Brain-O-Magic, Drawn to Discover and Lekha Ink.