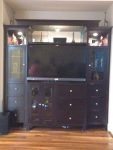 5 Piece solid wood entertainment centre with 3 spot lights for immediate sale.
– TV Table with twin glass doors and 2 shelfs for Entertainment consoles; and 3 Drawers.
TV Table Dimensions: 44"W x 22"D x 24"H
– 2 Side Towers, each with a spot lights in the top shelf, 3 additional shelfs behind glass door and three drawers
Dimensions: 17"W x 78"H x 22" D. Top of the towers is 19"W x 23.5"D
– 1 shelf connecting the two towers
Dimensions: 44"W x 22"D
– Top bridge connecting the two towers with a switch and a spot light
Dimensions: 60"W x 4"H. Width is 22" at the base and 24" at the top
Pictures attached. Only the entertainment centre is for sale om AS-IS basis. It does NOT include any other item shown in the picture.