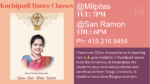 Kuchipudi Dance Classes @Milpitas TUE: 7PM @San Ramon THU: 6PM
Ph: 415 216 9454
Natya Visarada, Natya Bala, Guru Smt. Usha Goteti
I have over 20yrs of experience in teaching. I am a gold medalist in Kuchipudi dance from the University of Hyderabad. My students have received accolades and certification from Telugu University. 6 students have done Rangapravesham.