Natya Mela 2012, a two day Bengali Theater Festival will be organized by Sanskriti in Pleasanton on Feb 4 and 5. Sanskriti is a Bay Area's prominent Cultural and Charitable Association.
Venue: Amador Theater, 1155 Santa Rita Road,Pleasanton,CA,94566
Feb 4, 2012 – Saturday
3:15 PM "Bhul Swargo" Actopia, Bay Area
4:20 PM "Ekti GaNye Thaki" ECTA, New Jersey
5:55 PM – 6:40 PM Break
6:45 PM "Thikana" Brishchik, Seattle
Feb 5, 2012,Sunday
2:15 PM "Burkah Nama" Auditiya, Bay Area
3:00 PM "Norok Gulzar" Ankur, Sacramento
4:05 PM – 4:35 PM Break
4:40 PM "Tiktiki" Re-Act(Houston-Durgabari) Texas
Tickets are 20 – 30 USD, with a combo for two days for 40.
Check here for synopsis of the plays, and to book.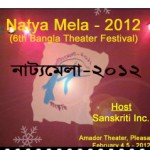 Last year, in October, Sanskriti was involved in organizing a festival to celebrate Durga Puja Other Cultural Programs and activities, including games like Carom and Table Tennis. As well they organized an event to pay tribute to Rabindra Nath Tagore on the occasion of his 150th Birth Anniversary at the same location Amador Theater, Pleasanton.