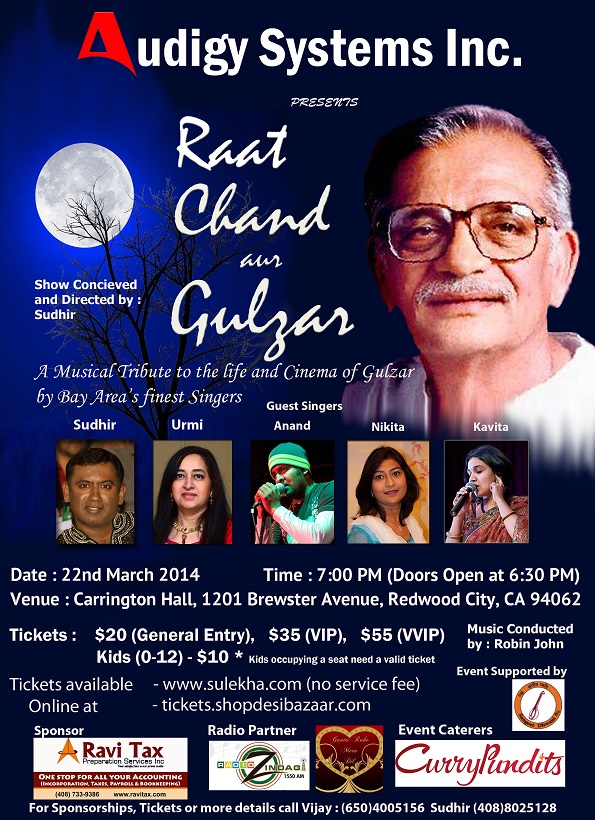 After successful shows like Yeh Hai Amitabh, Forever Pancham, Sajda, Surmai Shaam & Comedy Hungama; Audigy Systems Inc now presents Raat Chand aur Gulzar – A musical tribute to the life and cinema of Gulzar.
Come! Join us in reviving Gulzar's truly golden melodies with live band of talented musicians & singers who will pay a tribute through his evergreen songs, anecdotes and more.
Online Ticketing Link
http://events.sulekha.com/raat-chand-gulzar-a-musical-tribute-to-the-life-and-cinema-of-gulzar_event-in_redwood-city-ca_292133
or http://tickets.shopdesibazaar.com/event/view/id/101
Musicians: Robin John, Sonu, Ashneel, Dhriti, Tamal Dey, Sanjay, Sunny
Vocals: Sudhir, Urmi, Anand, Nikita, Kavi
Sound: Vijay Singh
Media Partners: Radio Zindagi 1510 AM, Gaata Rahe Mera Dil
Supported by: Sangeet Dhwani
Proud Sponsors: Ravi Tax Services
Onsite catering available by Curry Pundits.
For more information, group discounts, tickets, and/or sponsorships Contact:
Sudhir (408)802-5128
Vijay (650)400-5156