Spring! It's that time of the year when India and Indians everywhere come alive in a riot of vivacious colors to herald spring! As India is a country of diverse cultures there are many varied festivals to celebrate the arrival of spring in the different parts of the country! Basically most festivals have a religious fervor to it and are symbolic of victory of good over evil !
Holi, and then Basant Panchami.
During spring in the northern states of Haryana and Punjab, the mustard fields are in full bloom and resembles yellow carpets laid out on acres of land . Hence, yellow is the color of the festival and people wear yellow clothes and fly yellow kites on the rooftops after a religious ceremony dedicated to the Goddess of learning! People fly kites in the nights as well using searchlights!
The spring festival Uttarayan of Gujarat in north India falls at a time ,when the sun and the wind flow ,is favorable for flying kites!
In the Bay Area, there are at least two festivals being celebrated.
Basant Kite Festival, Baylands Park in Sunnyvale, Sunday, May 16, 2010
"We are gearing up for the Basant Kite Festival. This year for the very first time we will be celebrating this cultural tradition, common in India and Pakistan, by bringing the Silicon Valley Pakistani and Indian communities together. Every year at this event we fly desi kites, have a kite flying competition, music program at the center stage, dancing (bhangra and others), children games and activities, vendor booths and stalls, food booths, etc."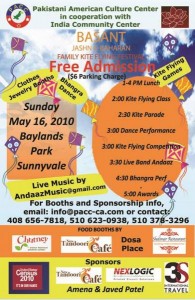 Kids 'n Kites Festival, Central Park, Fremont, Saturday, May 15, from 10 a.m. to 3 p.m.
The City of Fremont Parks and Recreation Department is holding its annual Kids 'n Kites Festival on Saturday, May 15, from 10 a.m. to 3 p.m. The festival, presented by American Swim Academy, is located within Central Park, next to Aqua Adventure Waterpark.
The festival is free to the public, and includes free kites to the first 2,500 children in attendance. There will be live entertainment on the main stage, interactive booths highlighting summer activities, play area for the kids, food, and more. The festival has something fun for everyone!