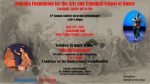 Ushanjali School of Dance presents
Fundraiser for Shri Shankara Cancer Foundation.
Dance Drama, "Narada Koravanji"
April 23rd, 5.30-7.00pm Lakkireddy Hall, Livermore Temple.
Entry: $10.00 at the door
Sponsors: Kumon (San Ramon Center); Building Kids (Mountain View).
Now, do you know which are the most popular Indian food dishes in the local Tri-Valley Indian Restaurants?