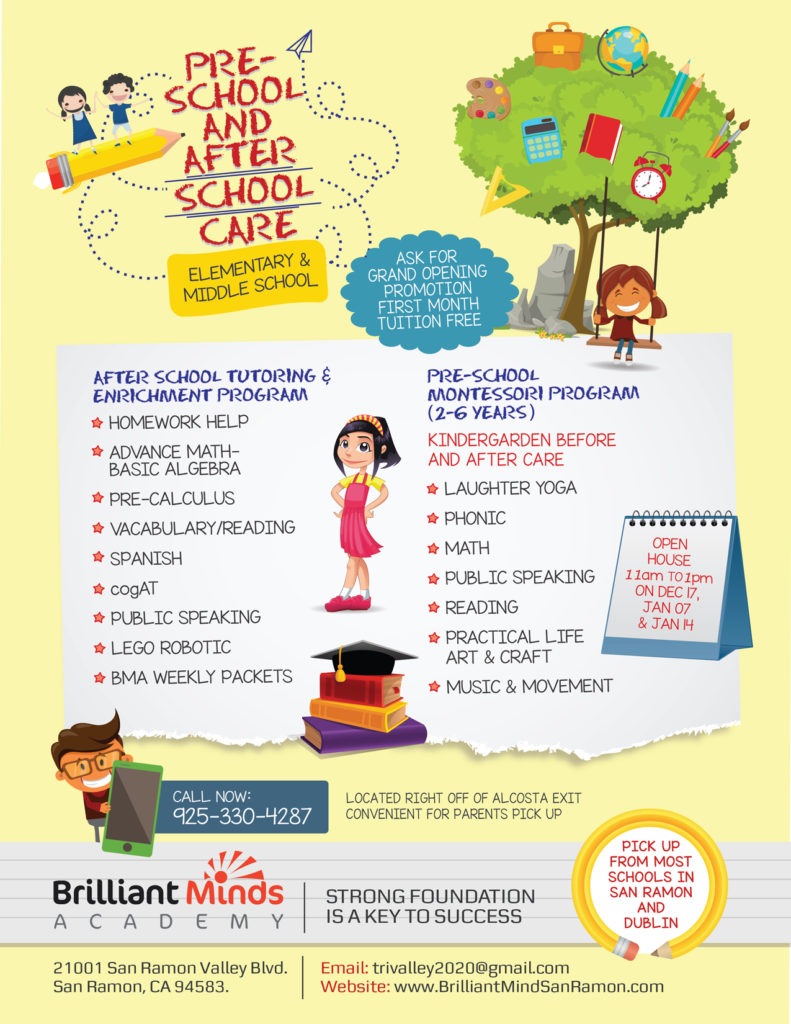 Brilliant Minds Academy is opening up in San Ramon, offering pre-school and after school care. Ask for Grand Opening Promotion – First month Tuition Free!
Open House 11am to 1 pm on Dec 17, Jan 07 and Jan 14, 2017
Afterschool Tutoring and Enrichment Program:
Homework Help, Advance Math Basic Algebra, Pre-calculus, Vocabulary / Reading, Spanish, cogAT, Public Speaking, Lego Robotics, BMA Weekly Packets
Pre-school Montessori Program (2-6 years):
Kindergarten Before and After Care, Laughter Yoga, Phonic, Math, Public Speaking, Reading, Practical Life Art and Craft, Music and Movement.
Located right off of Alcosta Exit, convenient for parents pick up. Call now 925-330-4287. Pick up from most schools in San Ramon and Dublin. Strong Foundation is a key to success.
21001 San Ramon Valley Blvd, San Ramon, CA 94583 Email trivalley2020@gmail.com Website: www.BrilliantMindSanRamon.com
Now, do you know which are the most popular Indian food dishes in the local Tri-Valley Indian Restaurants?