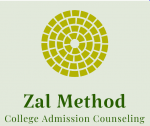 Swati Chopra
College Admission Counselor
Dublin, CA
ww.zalmethod.com
Welcome to our counseling services! We take pride in our work and you'll see the difference when we meet. Each student is
unique, with unique abilities and strengths, and we'll make sure we tap into those strengths to help them be the best they can be!
​We offer the following services:
Hourly Counseling
Middle School Math Placement and Electives Advice
High School Course Counseling
Extra Curricular and Leadership Counseling
College Search Advice
Essay Brainstorming
College Applications
Scholarships/Financial Aid
SAT and ACT Testing Information
Majors and Career Exploration
Post Admission Counseling
And everything in between!
​While we offer full junior and senior year packages to help you with financial aid, scholarships, college applications, deadlines, etc. we honestly believe that students in their sophomore year and younger don't need more than 2 or 3 meetings a year. The best time to come in and meet with us is when your eighth grader is planning his/her freshman year course load.
​