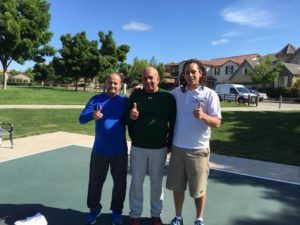 Hey everyone, did you know that Pleasanton's overall BMI is 27.9 ?!
According to the National Heart, Lung, and Blood Institute, this puts Pleasanton squarely in the "Overweight" category. We want to change all that. As lifetime Pleasanton residents, we know our great community is above such a mediocre standard.
Let's set a great example for our kids so that we can lower their lifetime chances of getting diabetes, heart disease, low self-esteem, and other unhealthy stuff. Sign up at http://gethealthypleasanton.com/ to give your kids a great example today!
This FREE bootcamp will be held at Bernal Community Park on Tuesdays, Thursdays, and Saturdays at 6am every week.
Pleasanton is a great community so we want to volunteer our time to run a two-week "Fat Furnace" bootcamp for the community as a whole!
To ensure a quality class for everyone involved, the bootcamp is limited to 12 participants – so please reserve your spot as soon as possible. For any questions, please contact at [email protected]. Any interested participants must sign a waiver, anyone under 18 years of age must train with a parent or legal guardian, and that includes teenagers.
–Sponsored Post–