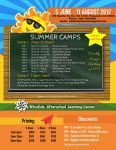 Hello Parents, "Education is what remains after one has forgotten what one has learned in School". WhizKids Pleasanton has a STEM based Summer Camp along with Film Making, Creative Writing, Public Speaking, Math Olympiad, Spelling Bee, Geography Bee, Chess, Lego Robotics, Coding, Bollywood Dance, Fun with Science, Yoga and Nutrition. All activities offered for $300 per week. We give bulk-week booking discounts, sibling discounts as well as group discounts. Our Staff and Visiting Faculty has a combined experience of 30 yrs. We take pride in having a lesson plan for every child so we can elevate every child to their potential. First 10 reservations get 1 week of Summer Camp Free when they book 4 weeks together. Yes you read that right 🙂
WhizKids Pleasanton 405 Boulder Court, Ste 700 & 800, Pleasanton CA 94566 Off # 925 400 8590 | whizkidspleasanto…@g…com | www.whizkidspleasanton.com
PS : Kids will participate in Bollywood Dance, Chess and Spelling Bee Competitions during Summer Camp. Also, we'll be making a Movie in the Film Making Camp which would be screened at Film Festivals across  California and Bay Area.