Its Time to Relax Your SELF with some Meditation and Yoga!!!
Hart Middle School, Pleasanton, 17th and 18th August, 2014. 8:30 AM to 3:00 PM. $175.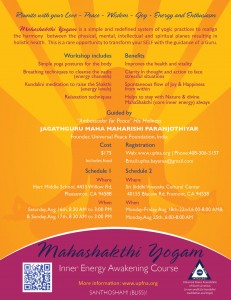 Attain Inner peace and holistic health by tapping this Mahashakthi (Divine kundalini energy) in YOU!
REGISTER @ https://upfna.org/special-workshop/sw-bay-area-ca/maha-shakthi-yogam
Don't miss this rare OPPORTUNITY!!!
PS: Food will be provided. Please bring your own food if you have any special diet requirements.