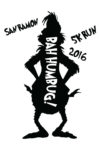 December 3, 2016 – 5K Run and Walk – Start Time 9:00am. Run Begins and Ends at: San Ramon Community Center at Central Park (12501 Alcosta Blvd).
Crunch Fitness will lead a pre-race warm up at 8:45am.
Start the holiday season off with a healthy fun run or walk through San Ramon. All registered staff will receive a holiday long sleeved shirt and a Bah Humbug! ornament. The Bah Humbug! is a chip timed race on a 3.1 mile course. The course is a fun, flat, family friendly, paved route. Registration details are available online at www.active.com search Bah Humbug! San Ramon or visit the City of San Ramon website at Bah Humbug! 5K Run and Walk .
Spread Holiday Cheer: Runners are asked to bring a can of food to be donated to the Contra Costa County Food Bank to assist those in need during the holiday season. Canned food donations will be collected at the registration table. New! San Ramon Police Department will collecting new, unwrapped toys as a part of their "Stuff the Cruiser" toy drive for Toys for Tots.
Costume Contest: Make sure to come dressed in costume and in the spirit of the run. Costume awards will be given for: Most Grinch-Like, Best Holiday Spirit, and Best Group Theme!
Awards: Medals are given to the first three finishers in each age division. The Mayor's Crown will award the lowest combined times of the 2016 Bah Humbug! and 2017 Run San Ramon pre-registered 5K runner. The Mayor's Crown winner will be recognized at the 2017 Run San Ramon 4th of July event.
Packet Pick Up: All pre-registered participants may receive their shirt prior to the event start at a packet pick up hosted by the New San Ramon Sports Basement located at 1041 Market Place San Ramon, CA 94583, on Thursday, December 1st from 11:00 a.m. to 7:30 p.m. Ornaments are given out at the completion of the run. 20% off at Sports Basement on packet pickup day, December 1st! Just show your bib at the register! Some exclusions apply.