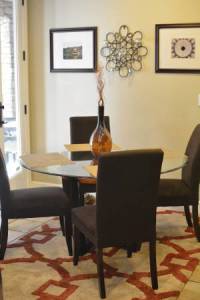 I am selling a brand new (less than 8 months old) beautiful glass-top dining set from Macy's. We are only selling the table because we are moving and it will not fit into our new home.
The hieght of the chairs are 18″W x 26″D x 39″H and the height of the table is 29.75″. Cappuccino finished legs. Four Microfiber chairs..  I am also selling the pictured rug (at additional cost).
contact me at saeeda.asa…@g…com if interested.