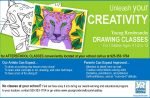 At Young Rembrandts, it's our mission to raise generations that value the power, the passion and the significance of art. Young Rembrandts teaches the drawing skills children need while developing learning skills that give children an academic advantage in the classroom.
Classes take place once a week immediately after school at YOUR child's school. We provide all of the supplies needed for the class.
Young Rembrandts Drawing Classes are conveniently scheduled in your schools. We run classes in most of the East Bay cities in the Alameda and Contra Costa Counties, including the Tri-Valley area. For more information contact sadhna.sharm…@y…com.