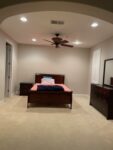 Hello, We have Separate 1b/1b suite room with living space, private entrance, walk-in closet, patio view, access to beautiful backyard with golf course/sunset views, laundry, car charger, in Bridges community available in San Ramon.
All utilities included.
Rent $1,750/month.
Limited access to kitchen is possible if necessary, can be discusses.
Perfect for singles who prefer to eat outside.