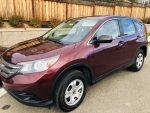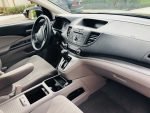 Beautiful Burgundy / Red 2013 Honda CR-V LX model for Sale $14200.
Single Owner, very well maintained and in excellent condition .
Has clean title, Backup camera, Bluetooth, Power windows
Bonus features:
1.Recently installed 4 new Bridgestone tires, good for another 60k miles.
2. All Season Floor Mats – really a steal which we got from the Honda dealer when we bought it. This really helped the floor mats to stay in great condition
3. Excellent color (if you looking for or like Burgundy/Red).
4. All the oil changes are done on time and have the maintenance records.
5. Recently installed new brake pads, so don't have to worry for another 60k miles.