FREE BOMBAY JAM CLASSES for the month of AUGUST! in Pleasanton
Classes Held at Jamie's Dance Company 3688 Washington St., Ste. E Pleasanton, CA 94566 (next to Big-O Tires off Stanley blvd.) Every Thursday at 6:30-7:30 pm Come join the fun!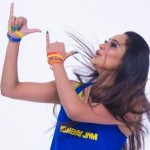 Powered by the explosively fun, globally appealing Bollywood culture, Bombay Jam® is the ultimate dance fitness total body workout that is effective, safe, easy to follow and packed with authentic Bollywood flavor!
The program has a serious focus on integrating fun & fitness! Bombay Jam® incorporates cardio and toning routines into one action packed total body workout, and routines are set to custom music mixes created by Bombay's hottest DJs. The music is a blend of Bollywood and mainstream Top 40 tracks, resulting in one-of-a-kind mixes that are refreshing, energizing and universally appealing. The cardio routines incorporate basic, easy to follow dance fitness moves full of Bollywood flare, and the toning segment focuses on sculpting long, lean muscle. In just an hour-long class, you can burn hundreds of calories!
If you love Bollywood music and love to move, this incredibly fun, effective & safe workout is for you!
Bring a yoga mat, water and wear comfortable shoes and workout clothes.
7% of profits are donated to Asha for Education Foundation
Contact [email protected] for more information or visit www.jamiegamal.com and feel free to check-out our youtube channel: https://www.youtube.com/user/bombayjamworkout