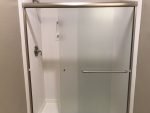 First floor bedroom in a brand new town home.
Very safe  community.
King size bed with mattress, can be adjusted down to full size.
Luxury style full bathroom and a closet.
Small refrigerator and microwave.
 Attached patio.
Less than 10 minute car ride from Dublin bart station.
Rent is $799 per month, all utilities included – water, electricity, sewer, trash and wifi.
Contact: goutham.meruv…@g…com or 2563618118.