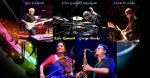 Join in for an Indian Jazz Fusion concert Saturday, March 25, 6:00 PM at Dublin High Center for the Performing Arts and Education. It's presented by City of Dublin Arts Space Grantee – East Bay Marathi Mandal, which hosts world-class musicians for the event. Discounted tickets for Dublin residents are available online for $20. Students discount tickets are $15. Regularly priced tickets are $25.
The show, Soul and Spice: An Indian Jazz Journey, features prolific and diverse saxophonist and composer George Brooks and Grammy-nominated classical Indian violinist Kala Ramneth.
Local young rising star musicians BaalVeena Preeti Tamhankar and Tabla Visharad Ashish Tare will also perform.
East Bay Marathi Mandal is a progressive, cultural non-profit organization which celebrates, promotes and preserves the rich Indian heritage by actively engaging the community. EBMM propagates this vision by organizing cultural and creative art events.
This program is part of the Dublin's Arts Space Grant Pilot Program, where non-profit arts organizations apply to use public facilities free of charge to present arts programming for the public. For this program, discounted tickets of $20 are available to Dublin residents. Buy tickets here.