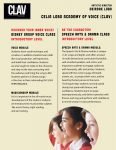 Don't miss out on this opportunity for your child to learn vocal technique (projection, correct breathing technique, voice modulation, etc.) for public speaking, drama, and singing. These classes also work with students with speech impediments. The Celia Lobo Academy of Voice (CLAV) will be starting classes in Dublin starting Monday, Sept 9, 2019. Classes are from 4:00-6:00 p.m. Please see attached flyers with contact info and class description.
Sign Up Now – Don't Miss the Early Bird Deadline!
(650) 2709870 or admi…@c…com for more info and details.