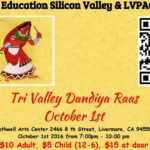 Sat Oct 01 2016 – Asha for Education Presents Dandiya Raas – by Asha for Education SV and Livermore Valley Performing Arts Center
Come celebrate Navratri with DJ Ramsey and Asha for Education SV.
Don't think you can dance? We have free lessons starting at 7:15 PM and 8:00 PM if you are a novice or just looking get back into the groove. The steps are basic and most people pick up the dance within 30 minutes of the lesson.
Program highlights:
7:15 PM – Kids dance lessons
8:00 PM – Adult dance lessons
Location: Bothwell Arts Center, 2466 8th Street, Livermore, CA 94550
Adult Price: $10, Kids(6-12 years old): $5, Kids under 6 free. Dandiyas will be available for sale at the door. Snack and beverages can be purchased at the venue.
This is Asha for Education SV fundraiser to raise funds for underprivileged children in India. Proceeds from the event benefit various Asha for Education SV projects.