How is it like celebrating Diwali in bay area this year 2010? There's been Dandiya dances all over in October. The desi stores are decked up with Diwali mithai and puja stuff. You could be planning get-togethers with friends and family. And now there are Diwali festivals being organized all over the bay area, and you could decide to attend one of those.

There is general festivity in the air. Even the stores in the malls and elsewhere are beginning to show that holiday season is not far away. So if you would like to do any new purchases on occasion of Diwali – the Dhanteras Tradition, its not a bad time either.
The lead this year, like others, for Diwali celebration is being provided by the temples of the region.
The Bay Area Youth Vaishnav Parivar is organizing what they call 'Diwali Celebration like back home in India' for five days from Nov 2 to 7 in Milpitas.
The Sunnyvale Hindu Temple is organizing Diwali Mela 2010 from Oct 29 – 31. The Livermore Hindu Temple is organizing special puja on Nov 5 and 6. The Fremont temple has the big festival going on on Nov 6. The Sikh Gurudwaras have a huge Diwali celebration and langar on Diwali as well.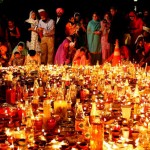 Adding to the festival calendar during this time, especially for the kids, is Halloween. If adults want to indulge, there is Halloween Party + Miss India Norcal at an event organized in Milpitas.
The businesses and other associations have been active as well. Cupertino Chamber of Commerce & Asian American Business Council organized Diwali Festival on Oct 8, and IIT Foundation had their cultural competition on Oct 2 in Campbell.
The Tri Valley Indian Association is also organizing their Diwali night on Nov 13 at the Hart Middle School, Pleasanton. So if you are in Dublin, Pleasanton, San Ramon, Livermore, Danville – this could be your local Diwali festival. (UPDATE Nov 4, 2010 – the Pleasanton event stands cancelled).
Private parties and potlucks on Diwali are common – then there are Diwali Meetups like this one if one is interested in for San Ramon Pleasanton area for Nov 6.
And finally, for the day of Diwali, plan on dressing up, lighting up your house, do rangoli, puja, eat a lot of mitthai but refrain from any fireworks.