The cricket fans in the bay area have something to cheer about. Next month (September), an indoor cricket practice facility is opening up in Union City. It will have four indoor batting lanes with dedicated bowling machines. Coaching and Training will be available. The facility is located 2 minutes from the Whipple exit on 880.
Fri-Sun 9:00 AM-11:00 PM
Cricket Strike Zone Inc.(CSZ)
2919 Whipple Road
Union City, CA 94587
CSZ will have plenty of options ranging from Team packages, individual packages, kids coaching, one on one training with certified coaches, international player appearances, Bowling machine practice, agility training, sponsoring national teams youth teams etc. This could definitely increase standard of cricket in Bay Area and help produce more national level players from the region.
For more information, call 916-612-1160.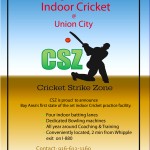 The facility is promoted by Mukul Kumar – he has been playing league cricket for 3 years and is his way of giving back to the cricketing community, as well satisfy his entrepreneurial spirit. Indoor cricket has been a long missing feature in the rich tradition of playing cricket in Bay Area. As he started playing, he "realized that it is a tremendous task to get people/team together for practice as most of the enthusiasts are hard working full time people". He also took this on as he wanted to promote the spirit of cricket in the Bay Area by introducing specialized coaching and training which would build character and strength in kids. "Cricket is a game of great skills and concentration. It teaches one everything to learn in life."