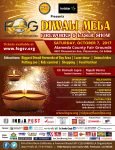 FOG Diwali Mela Fireworks and Laser Show on Saturday Oct 7, 2017 at Alameda County Fair Grounds, Pleasanton. Biggest Diwali Fireworks of Bay Area, Animal Rides, Petting Zoo, Kids Carnival, Shopping, Food Festival.
Organized by Festival of Globe, Silicon Valley – FIA of Northern California. Tickets available at www.fogsv.org
Now, do you know which are the most popular Indian food dishes in the local Tri-Valley Indian Restaurants?